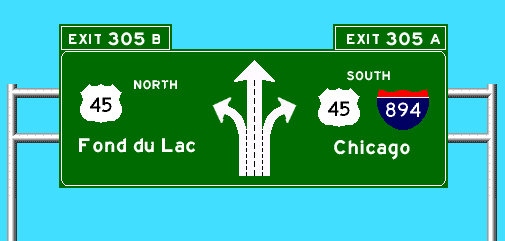 Welcome to the Zoo Interchange, where I-94, I-894, and US 45 meet. The Zoo Freeway (I-894 & US 45) is a heavily travelled route in the Milwaukee area. To the south on I-894 is a heavy residential area, and to the north on US 45 is a heavy manufacturing area. Harley-Davidson, Briggs & Stratton, and Falk all have their manufacturing facilities on this stretch. During rush hour, I-894/US 45 is almost always backed up, north in the morning and south in the evening. The Milwaukee County Zoo is located on the northwest corner of the interchange, hence the name.
In 2000 15 miles of southbound US 45 were resurfaced, including through the Zoo Interchange. Then in 2001, the northbound lanes were resurfaced.
In 1997-1998 nearly 20 miles of I-94 were resurfaced, from the Marquette Interchange to STH 16. Some bridges in the Zoo and Stadium interchanges were rehabilitated, as well.
These resurfacing projects will be the last on these stretches of freeway until they are completely reconstructed, in 10-15 years.
!
---
WC